VB.NET
Development
A completely object-oriented programming (OOP) version of Visual Basic, that provides the best platform for project deliveries is what we call-Visual Basic .NET . This software programming language is one of robust, secure and completely reliable language in the software technology. Being a multipurpose programming language, it can cater to the maximum number of domains and needs, for client requirements. This comes as the best software development tool from the tool-box of Microsoft. Designed with Rapid Application Development (RAD) technology, it stimulates several programming tools to reduce the development time and codes frame, hereby creating user-friendly applications.
Being an OOP language, it supports the entire range of OOP's concepts such as abstraction, inheritance, polymorphism and aggregation, offering code reusability and redundancy.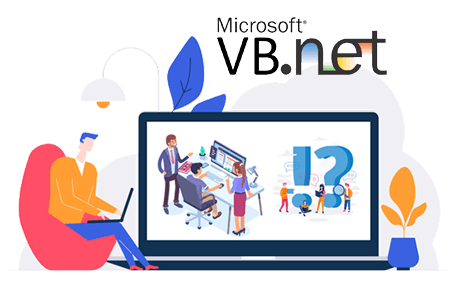 Our Team of Developers
Our expert VB.NET team of efficient developers have gained immense experiences and expertise in timely project delivery. We understand how crucial your business is and offer the apt services as per specific domain needs. Our team promises to deliver robust, strong, secure, user-friendly and stable applications for your needs. Improved presentation, business logic, information management, security and reliability are the major element of our easily managed codes. One of the best R&D teams has been installed within our development team for complete constant research on latest technology up gradations. We believe and adopt on the latest upgrades of the framework for the best solutions.

Our VB.NET Development Services offer:-
Visual Basic .NET Consulting
Windows application development
E-commerce application development
Custom web application development
CRM or Customer Relationship Management applications
Development of portals following the WAI and Web2.0 standards
At STPL, with VB.NET services we stipulate clients from a wide array of business segments.